5pc 10mm Shank HSS Woodworking Countersink Router Bit Screw Extractor Remon Demolition for Wood Milling Cutter Features: *100% brand new and high quality *Made of high-quality materials, strong and practical *Specially designed steel counterbore or counterbore guide hole. *The depth of the counter bushing can be adjusted using an Allen wrench. *The standard hexagon handle can be replaced quickly. *Drills and countersunk heads are used for wood screws, no need to replace the drill bit. *Just loosen and tighten the fixing screws, you can adjust the drilling length of screws of various lengths. Specifications: *Material: Head: YG8 alloy blade Body: 45# carbon steel Surface: spray *Specifications: 2.8mm*10mm, 3mm*10mm, 3.2mm*10mm, 3.5mm*10mm, 4mm*10mm(Approx.)
Hexagon Countersink Drill Bit Woodworking Screw Wood Hole cutting 10mm Shank AU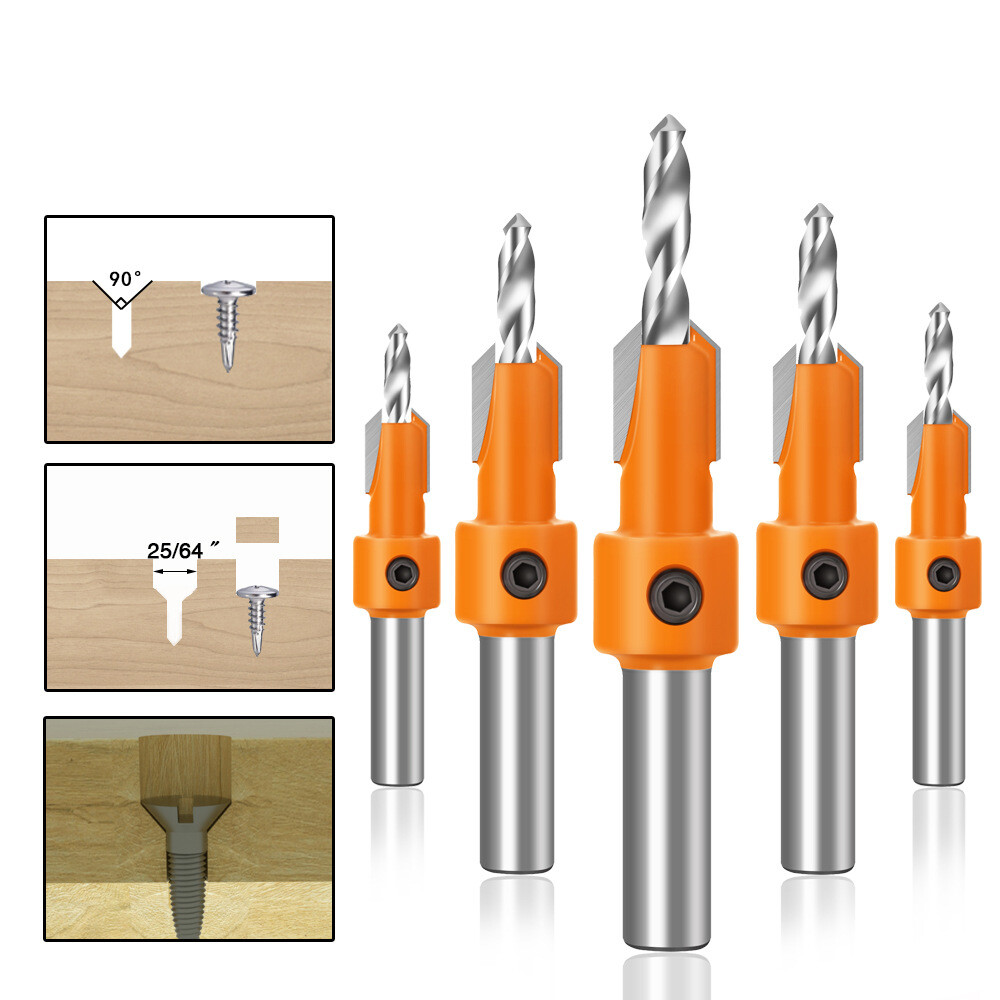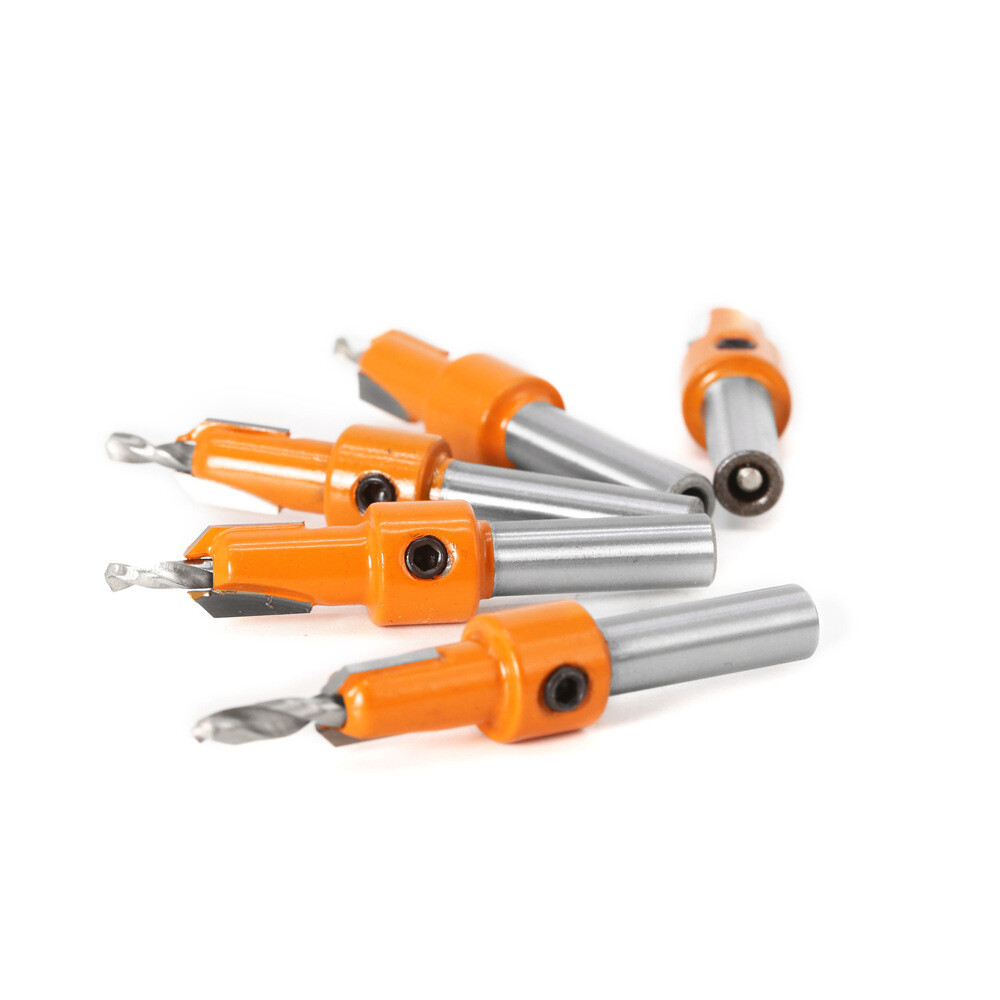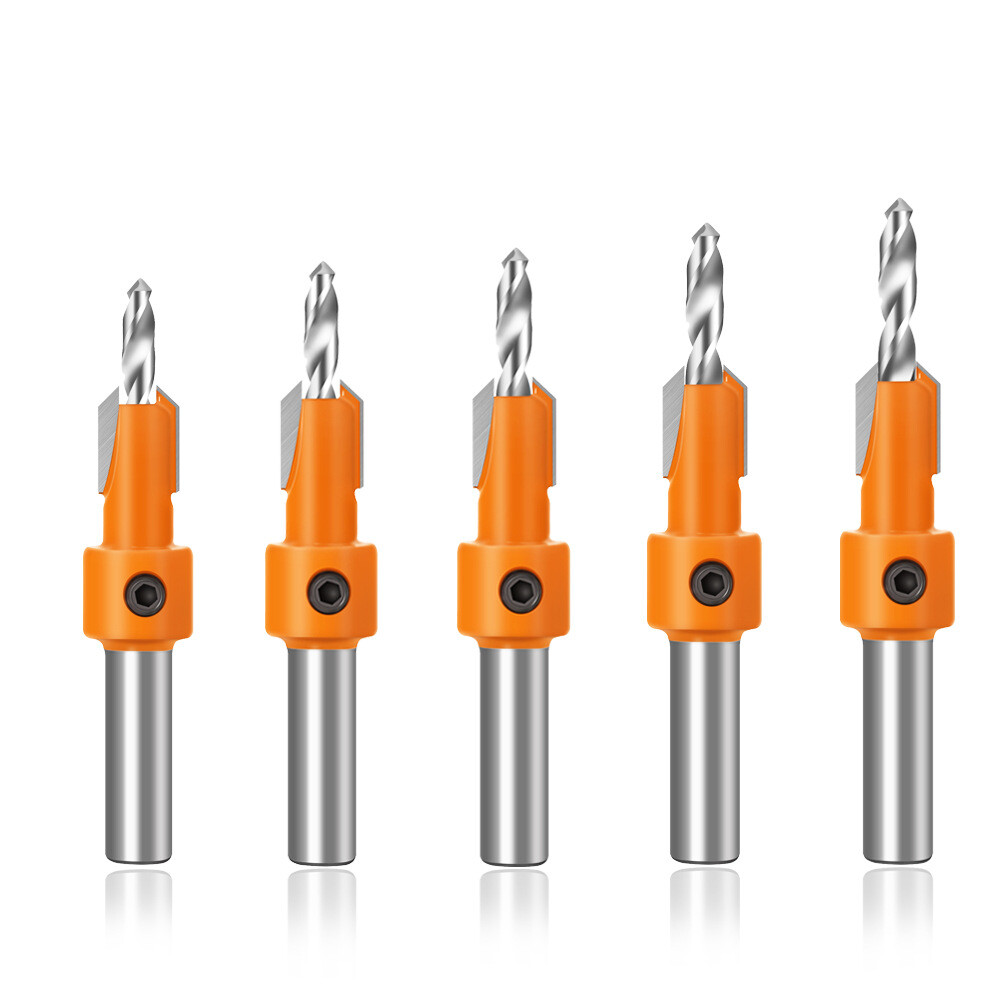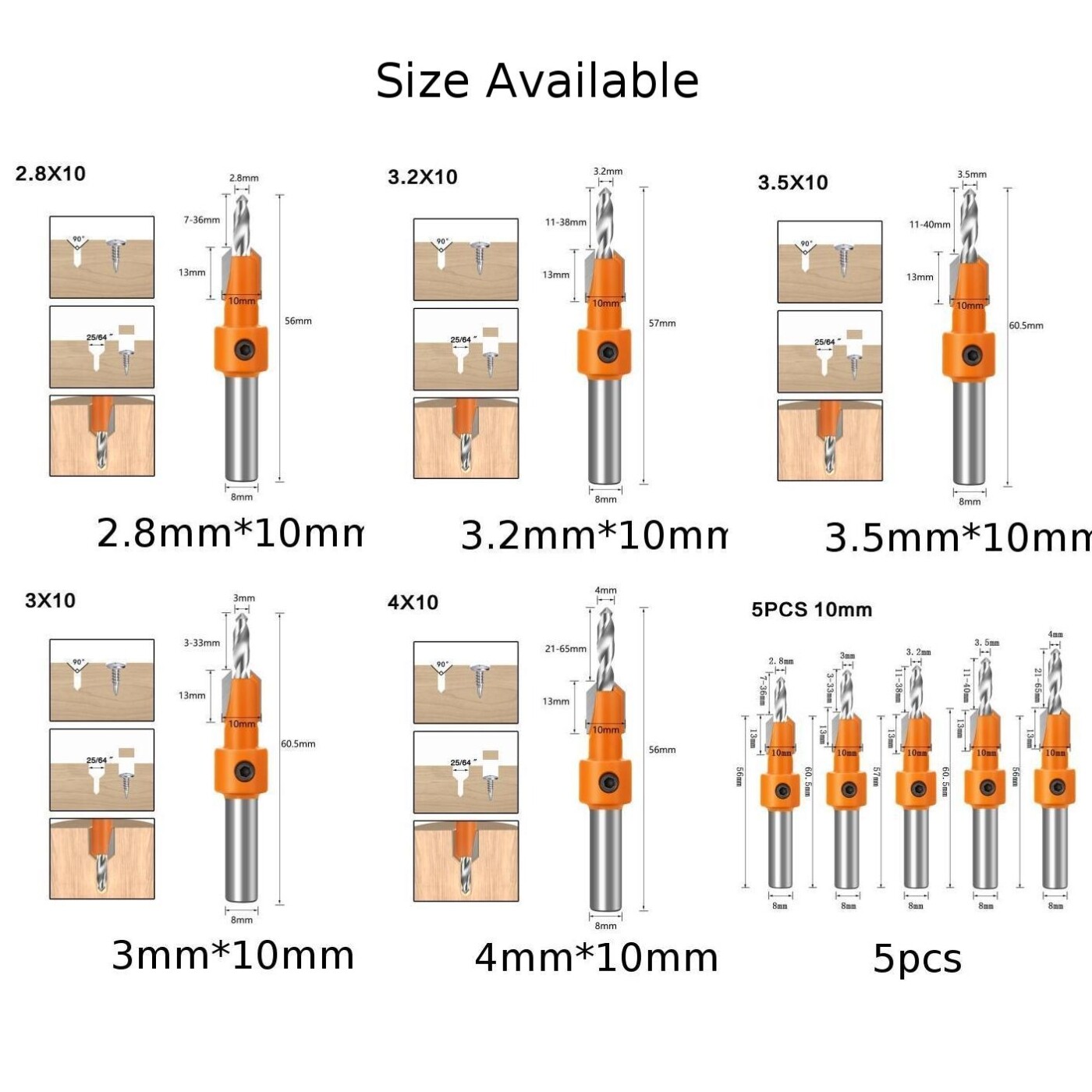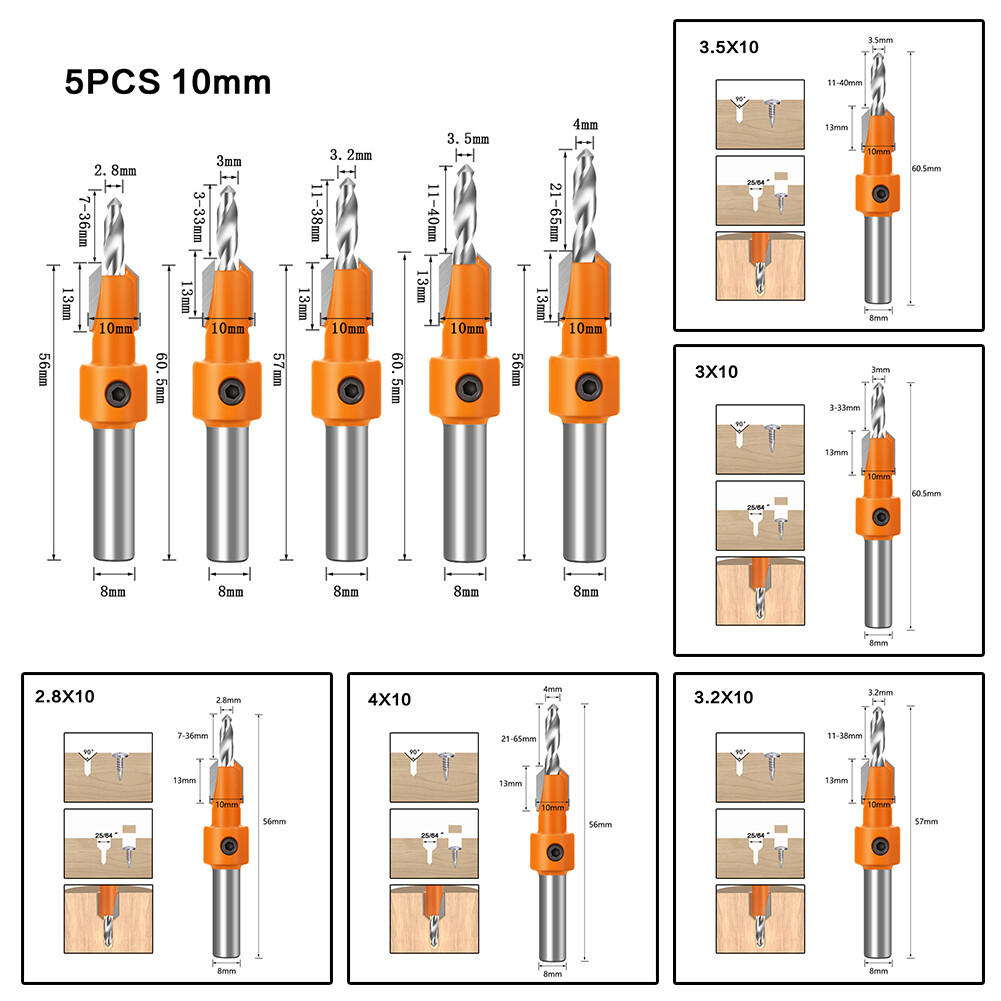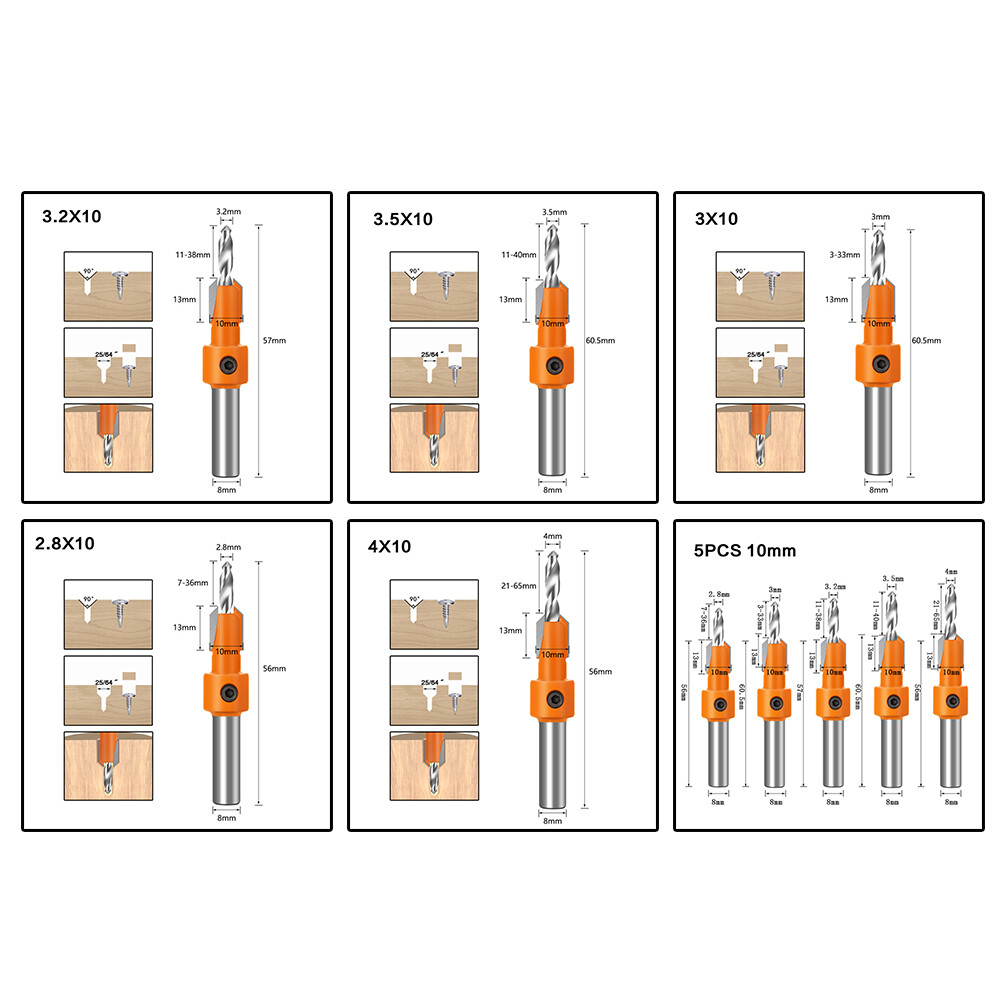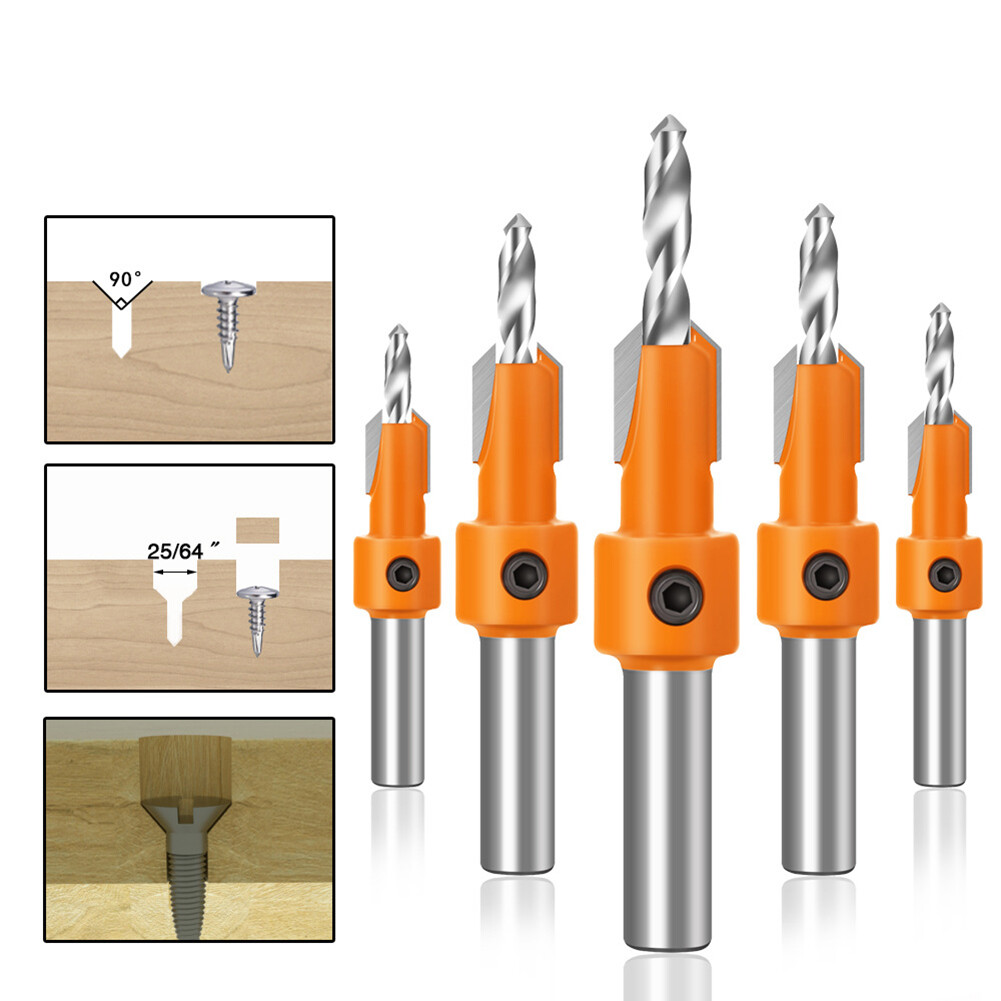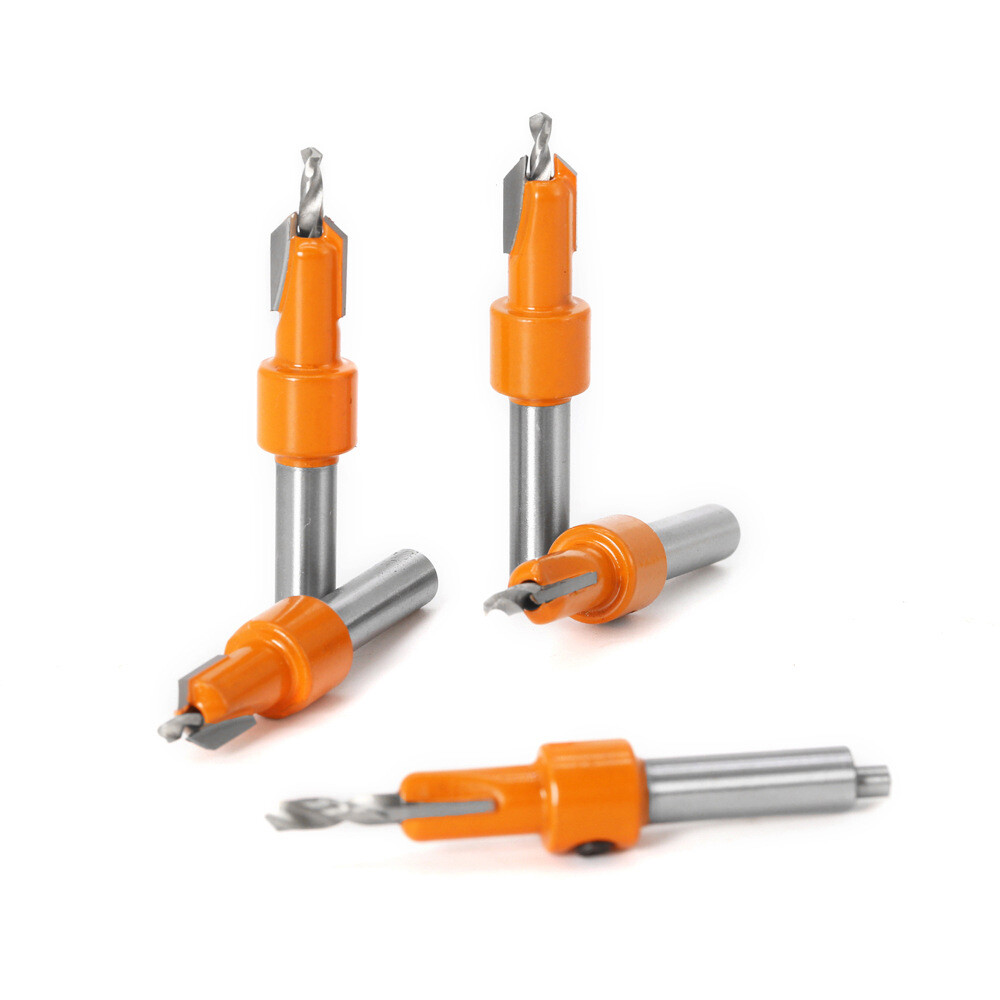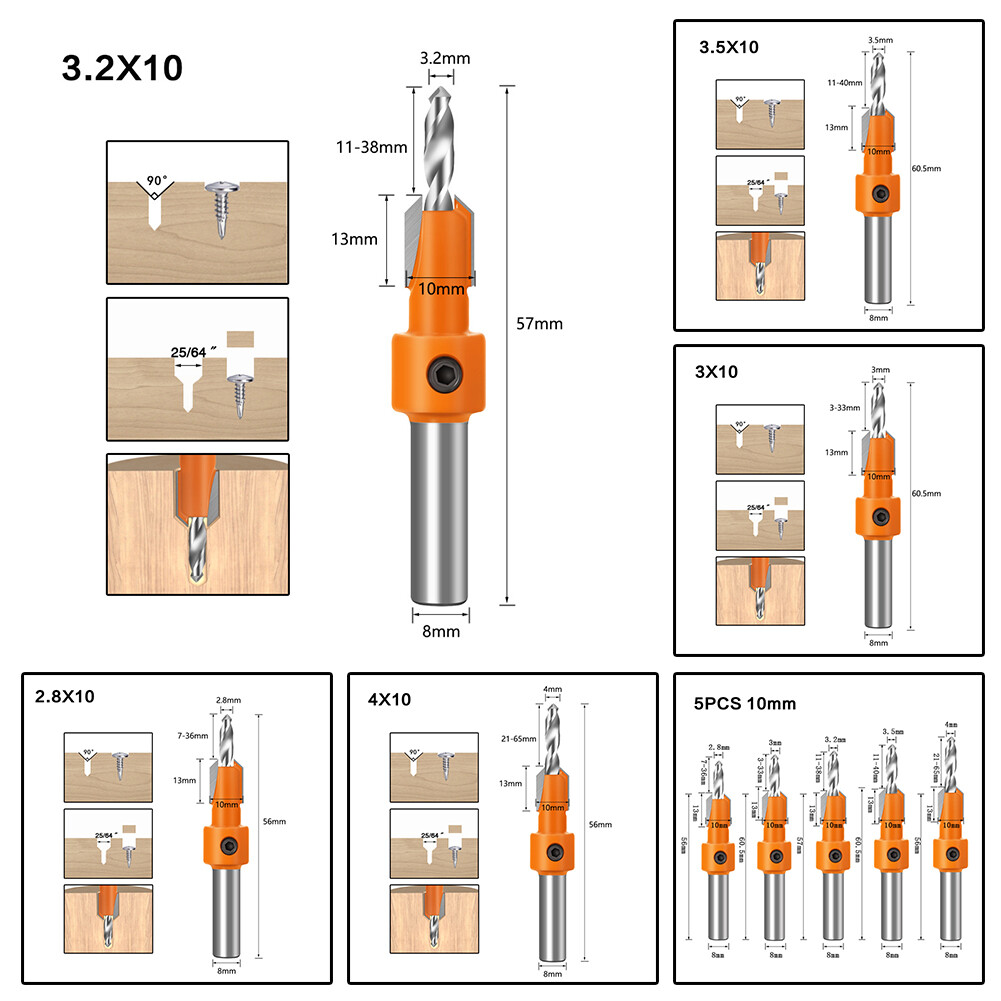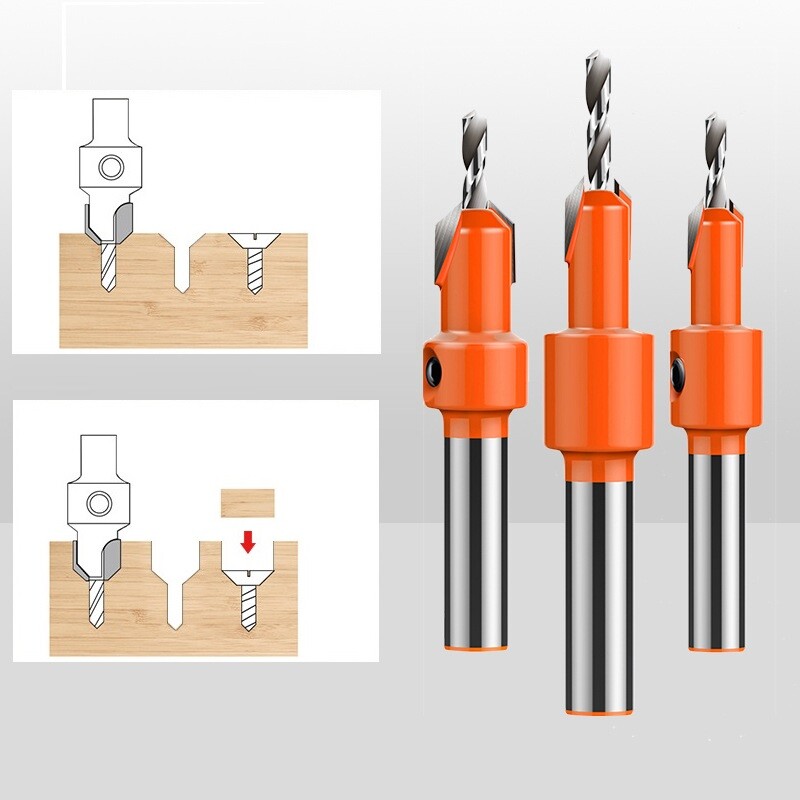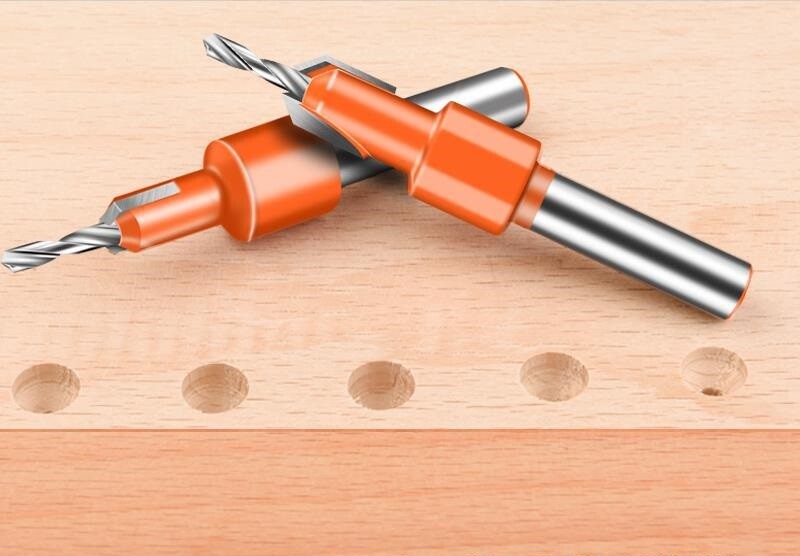 1pc 10mm Shank HSS Woodworking Countersink Router Bit Screw Extractor Remon Demolition for Wood Milling Cutter
Features:
*100% brand new and high quality
*Made of high-quality materials, strong and practical
*Specially designed steel counterbore or counterbore guide hole.
*The depth of the counter bushing can be adjusted using an Allen wrench.
*The standard hexagon handle can be replaced quickly.
*Drills and countersunk heads are used for wood screws, no need to replace the drill bit.
*Just loosen and tighten the fixing screws, you can adjust the drilling length of screws of various lengths.
Specifications:
*Material:
Head: YG8 alloy blade
Body: 45# carbon steel
Surface: spray
*Color: As Pictures Show
*Size: As Pictures Show
*Specifications: 2.8mm*10mm, 3mm*10mm, 3.2mm*10mm, 3.5mm*10mm, 4mm*10mm(Approx.)
*Usage: used for countersinking and opening of wood and aluminum alloy screws
Package Contents:
Package 1: 5* countersink drills
Hexagon Shank Countersink Drill Bit Woodworking Screw Wood Hole Drill Bit Tool
Item specifics
Origin:

China

Package Contents:

Package 1: 1* countersink drill Package 2: 5* coun

Brand:

Unbranded

MPN:

Does not apply

Type:

Drill Bit

Model:

Countersink Drill Bit

Material:

Head: YG8 alloy blade Body: 45# carbon steel

Number of Items in Set:

1/5 OPTIONAL

Package Quantity:

1/5 OPTIONAL

Country/Region of Manufacture:

China
Shipping policy

We offer free shipping for all our products, normmally we will shipping out via standard shipping with tracking number provided and normally take 7-20 business days to arrive, If you have problem with it, please don't buy from us.

After your order, I will upload your tracking number in your purchased record in Ebay
within 3 business days, or does not load, but if you required we will provide accordingly.

Your delivery address cannot be changed after payment has been made.
-For safety and fast delivery, Your address and Telephone number are required.
-For Shipping address should be the same as that of the Paypal.
Customs
1. Custom Tax
According to Ebay Policy, Custom tax/ Duty/VAT are under Buyer's responsibility.
If your local customs charge for the customs tax/ Duty /VAT/ Brokerage Fees/ Handling Fees,
The buyer will have to pay for it.
So before purchasing, please check the tax rate with your local custom .
I also try my best to reduce the tax or duty according to your request.
Due to the custom tax or duty, if you reject the package, I will charge for the shipping cost and 5%
(of total price) handling fee
2. In Holding in your local custom
If your parcel is held in your local custom, you will have to contact your local custom and post office.
If you need the document to clear the customs, please contact me that I will provide any documents
after checking with my courier.
If the parcel returned due to refusal to pay import tax or unsuccessful delivery
(e.g. insufficient address information, no such receiver, etc),
I will charge for all Shipping cost and 5% of total price.
Return policy
Any issue to return, You can return it to me within 60 days receipt of your item, Before returning,
please contact us immediately via ebay message so that Our customer service team will gladly
contact you for further arrangement upon your request.

Here is the steps for return, Refund is applicable according to below condition 1,2
1. In case of below conditions,
In refunding, initial shipping cost will be deducted.
1) ALL accessories must be unused; ALL accessory packages must be unopened.
2) ALL items must be intact and undamaged (except for defects in manufacturing).
3) Items must be in good conditions with all original accessories, manuals, and packing materials.
2. In case of below conditions,
In refunding, an restocking and admin fee of the item price plus initial shipping cost will be deducted
1) Some accessories were used; ALL accessories in the package were be opened.
2) Some items were damaged (except for defects in manufacturing).
-Any missing parts or damaged items will result in rejection on the return.
In case of any defectives found, only defects in manufacturing are accepted as the reason of return.
-As soon as I receive the return product, Refund will be done.
Excluded shipping area
If you want to buy in excluded shipping area I mentioned, please contact me before purchasing.
If you pay for the additional shipping charge, you are able to order it. Please note it.
We are a team of enthusiastic developers and entrepreneurs who decided to convert their common experience into this web store. We hope you'll like it as much as we do and have a great shopping experience here. Our prime goal is to create a shop in which you can easily find whatever product you need for Power tool accessaries, Woodworkinng route bit, PCB Drill Bit & Milling Cutter, garden tools.
© 2020, All rights reserved