Small Cremation Keepsake Urns for Human Ashes Mini Cremation Urn Small Funeral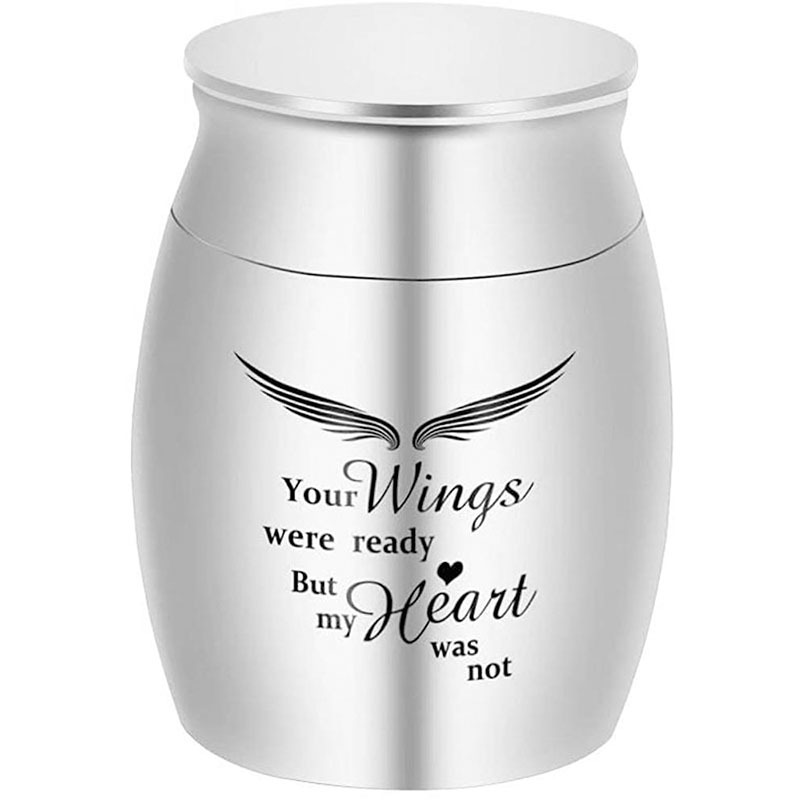 SIZE: 1.57*1.18inch (4*3cm), Handcrafted miniature keepsake cremation urn designed for sharing portions (Very Small Capacity) of cremated remains ashes among family members, can hold human cremains or pet ashes, flowers, dried flowers,earth from a grave site, or a lock of hair.
SCREW TOP LID – Rest assured knowing that the urn's unique screw-top lid provides a reliable, securely fastened seal that can even withstand being dropped.
DURABLE – Our urn is sturdy and enduring thanks to its thick aluminum design. The structure of beauty of the urn is guaranteed to withstand accidental drops or falls over time.
EXQUISITE WORKMANSHIP: Made of Premium Grade Stainless Steel, urn will never rust, corrode, rust or stain. Beautiful finish will not fade or tarnish. Last forever just like the memory it represents.
IDEAL GIFT: These mini keepsake urns are meant to be be shared among family and friends when desired. Coming with a velvet pouch, given as a touching gift for family members. Each Urn is small and fits in your hand and is meant to be a special token or small remembrance.
Memorial Stainless Steel Small Cremation Urn: Things would end but memory lasts forever. If you're recently bereaved, you need a high quality cremation urn that has been made with love, so you can honor the memory of the dearly deceased. Express Your Love and Affection with this beautiful Small Keepsake Urn which are handcrafted to give your loved one's remains the superior quality they deserve. These small urns can be placed on a bedside table, shelf, or mantel as a reminder of your loved one. Life may be gone, but memory lasts forever. Measurements: SIZE: 1.57*1.18inch (4*3cm) SECURE: Urn provides a reliable, secure seal with a screw-top lid. Threaded lid ensures that your loved one's ashes will remain closed inside in the event that the urn is dropped or bumped. ARTFULLY CRAFTED: High quality handcrafted urns with fine detailing. Beautifully designed with subtle patterns, this urn will look lovely in any room in which you choose to keep your loved one's remains. Highly polished exterior available in a variety of elegant colors. LONG-LASTING: Designed to be sturdy and durable to protect its precious contents. These urns are made from thick aluminum with coated interior to prevent moisture. LUXURIOUS PROTECTION: Black satin bag included. Provides preservation of the polished exterior of the urn. Satin material helps to protect against scratches and damage during transit or storage. NOTE: They are meant to share only a SMALL PART of your loved one among family and friends It is small and hold only a small amount of remains. Customer Service: We strive to provide the best products and service for our customers. If you have any complaints about the products, please feel free to contact us. Your satisfaction is our constant goal.